A traditional oil lamp GALICIAN consists of several elements made of brass and glass: sheet metal or solid casting brass base, glass or brass font (oil container), wick mechanism, chimney and shade. All parts of oil lamps are handmade by Polish craftsmen, transmitting their knowledge and artistry from generation to generation.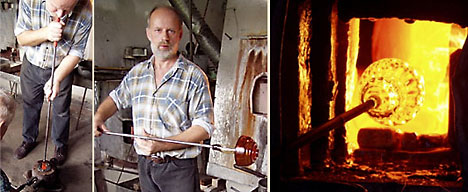 The lamp manufacturing process is extremely laborious and arduous. Several times a year a special furnace is used to smelt glass components such as lampshades, chimneys and fonts. The molten glass is formed to the desired shape in the same way like hundreds of years ago - after collecting a gob is placed on a special blowing pipe. Then glass is formed in the shape of bulb which is placed into the mould. The desired shape of font, chimney or shade is obtained from the air blown from the gaffer's lungs or by using a mechanical press.
The newly-formed fonts and shades, after being heated for more than ten hours in a special stove, can be covered with traditional, Polish ornaments, based on folklore and plant motifs and can be sanded and cut.

In order to obtain coloured glass, various chemical compounds are added to the molten mass in the melting furnace. However in most cases, in order to protect natural environment, generally available cullet (from recycling) is used for production of coloured glass.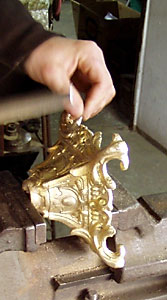 The next stage of the lamp manufacturing process consists of preparing the metal elements: brass lamp base, mostly in the form of casting, and gallery to which the wick mechanism and the flange supporting the shade are fitted. The bases and fonts made of sheet brass are produced by tooling or spinning. These processes are done by hand and require considerable strength.
Depending on the customer's preferences the brass parts can be polished which gives them a noble shine or covered with patina, which gives them the air of dignity and stresses their relationship with a century-old tradition – the tradition of hand making of oil lamps as well as passing time in a traditional manner.
Prepared in such a way brass elements: the gallery, burner and the flange which supports the shade are connected with rivets or solder. Following this all the components are assembled and tested thoroughly. Then the lamp is carefully packed in individual boxes made of thick, grey cardboard.
Each and every lamp leaving the workshop is subjected to rigorous quality control and therefore all products from GALICIAN collection have a lifetime guarantee.